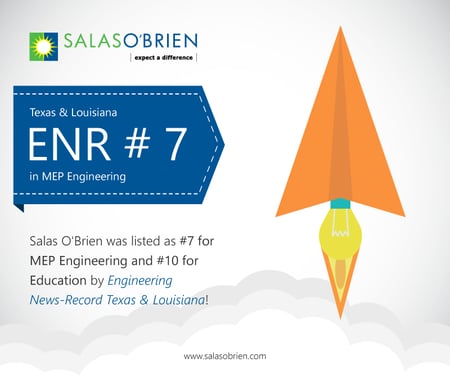 Engineering News-Record (ENR) just released its rankings of the top design firms in Texas and Louisiana—and it will surprise no one familiar with Salas O'Brien that the firm was ranked #7 in MEP Engineering and #10 in Education for the region.
"I am incredibly proud of our team's latest accomplishments," said Bradley Kalmans, managing principal of Salas O'Brien's Texas and Louisiana region. "We have been focused for a long time on achieving excellence in MEP engineering for clients in this area, and it's really energizing for our team to see their focus and hard work acknowledged by the ENR rankings."
ENR also named Salas O'Brien #232 in its 2017 list of national design firms. The national rankings include firms from all industries performing all types of architecture and engineering (mechanical, electrical, civil, transportation, structural, geotech, environmental). Salas O'Brien is also listed as a national MEP Giant and Commissioning Giant by Consulting-Specifying Engineer.
Want to learn more about our education work?
Here's a quick summary of our approach and partnerships, including Texas/Louisiana projects as well as others from around the country.