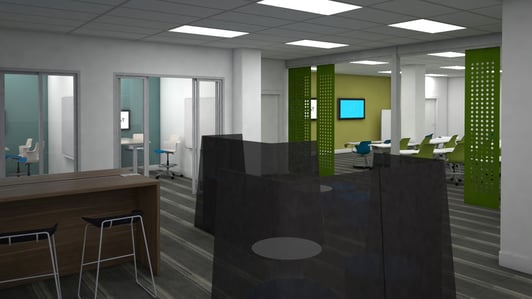 One of Salas O'Brien's designers was recently meeting with a major Fortune 100 company in the telecommunications field. As they discussed options for a project we're working on, an executive leaned back in his chair and said, "It would be really great if we could see this in virtual reality, before we start construction." As if that were possible.
Imagine the executive's surprise when our designer said, "Actually, I can get that to you in a couple weeks."
But what is virtual reality? How can it be used in the AEC industry? What benefits do our clients see from it?
Virtual Reality (and Its Place in AEC) Explained
Virtual reality (VR) is an immersive technology that allows users to step into a first-person, simulated world by looking through a pair of glasses, goggles, or in some cases, a visor-like cardboard box. This world could be anything from an interior or exterior design project to examining lighting options or the layout of tight spaces in critical facilities. Just imagine, for example, the potential benefits of stepping into a critical facility—before construction—and realizing that although all the pieces of an HVAC system work in theory, they'll never work in the real world.
The concept of VR machinery as we know it today has been around since the early 1960s. For decades it existed on the cusp of AEC business practices but never quite made the full leap due to VR replicas requiring more time and capital than other, less complex visualization options.
The video game industry has changed all of that. Recent technology breakthroughs have made VR easier and less expensive to produce, as well as simpler to modify. The result of these breakthroughs has been a noticeable rise in VR usage throughout the AEC industry, as well as across the broader corporate world.
Want to learn more about how Salas O'Brien uses VR?
One of our senior designers, Eric Johnson, just released a white paper that goes into more detail on VR and how it can help Salas O'Brien serve its clients better. Click below if you're interested in learning more.