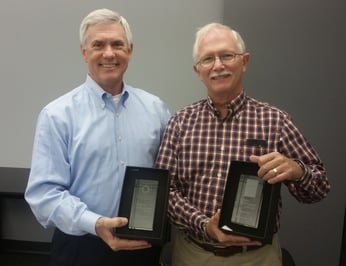 Salas O'Brien principal Mark Minick recently announced his retirement after more than 40 years practicing engineering, and over 35 years with his own firm. Mark began Minick Engineering in 1981 and served clients in a variety of industries such as manufacturing, health care, critical environments, commercial/retail, housing, and education. Minick Engineering was acquired by Salas O'Brien in early 2016.
"Mark is a 'people person' who cares deeply about his clients and team," said Stan Everett, managing principal of Salas O'Brien's Atlanta office. "He was very concerned to find a home for his employees and continuity for his clients, and we're really pleased he chose Salas O'Brien to carry on the Minick legacy here in Atlanta."
Mark will continue consulting on projects as needed and looks forward to spending time traveling with his wife, Linda, in the days and years ahead.