Salas O'Brien is thrilled to announce that it has been named number 10 on the list of 2016 Commissioning Giants published by Consulting-Specifying Engineer.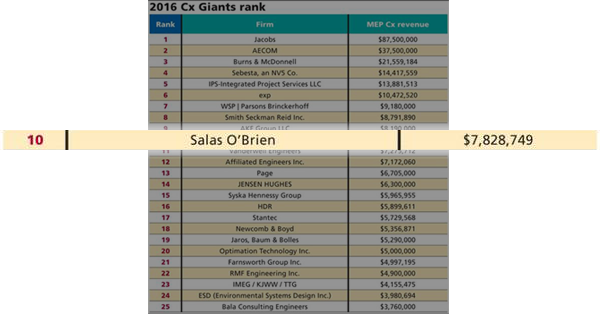 "Our nationwide commissioning practice has been growing like crazy for several years," said Darin Anderson, chairman and CEO. "High-profile clients from government to higher education to Fortune 100 companies are increasingly turning to Salas O'Brien for commissioning expertise. I am so proud of our team's industry leadership in this field and especially of Tim Gilbert's tireless dedication to heading up our commissioning team."
"This is just the beginning of what our commissioning practice can accomplish," said Tim Gilbert, Salas O'Brien principal and leader of the commissioning practice. "As more projects obtain LEED and other sustainable design certifications—and as jurisdictions across the country adopt codes requiring commissioning—Salas O'Brien will continue to demonstrate nationwide leadership and growth in this dynamic area of our practice."
Salas O'Brien is ranked number 29 on the overall 2016 MEP Giants list. The firm is also number 300 on Engineering News-Record's list of Top 500 Design Firms and number 2064 on the Inc. 5000 list of America's fastest-growing companies.