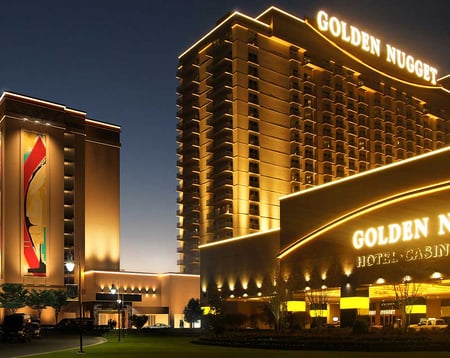 Landry's, the conglomerate behind such iconic properties as Rainforest Café, Bubba Gump Shrimp Co., and Claim Jumper, took no gamble when building a new addition to their Golden Nugget Casino & Resort in Lake Charles, Louisiana. They knew they could rely on Salas O'Brien to deliver the mechanical, electrical, and plumbing engineering needed for resort operations, the spa, and the 14 floors of the Rush Tower.
Our expertise was brought to over 300 guest rooms and suites, retail spaces, eight luxury villas complete with outdoor patios, and a luxurious spa attached to a full-service salon. And of course, behind all this is a massive laundry facility.
The hotel's private, 2,000-square-foot loft suite includes an outdoor jacuzzi, a deep soaking tub beside double vanities, and a metro soaker located on the second level of the room. In more public spaces, special chandeliers and lighting fixtures imported from Italy were installed, adding an inviting ambience to the hotel's main thoroughfares and lobbies for all visitors.
Thanks to our expertise and hard work, visitors to Golden Nugget Lake Charles can enjoy all that the resort has to offer in comfort and style.