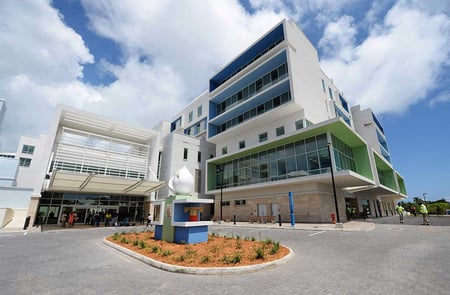 As Bermuda's second largest employer and its only hospital, King Edward VII Memorial Hospital (KEMH) provides state of the art healthcare facilities for the 65,000 residents of the island nation as well as its many annual visitors. Its isolated location in the Atlantic Ocean demands self-sufficiency: KEMH provides a remarkably comprehensive range of services, and its facilities must grow to meet any increase in demand.
Hailed as one of the most important and most needed infrastructure projects in Bermuda—as well as being the largest construction project ever built on the island—KEMH's new acute care building was developed by Paget Health Services to address a critical shortage of space for these services.
Salas O'Brien's solid healthcare experience brought the technical expertise needed for a successful project. Our team commissioned all mechanical systems, including the complete HVAC system, boilers, chillers, exhaust, outside air ventilation systems, building automation controls systems, dehumidification, steam distribution, and solar water heating. Electrical systems commissioned included occupancy sensors, computer controlled lighting, emergency lighting, and switched controls.
In addition to its technical expertise, the Salas O'Brien team was also selected due to its reputation for consistently outstanding communication and accountability—traits required for this complex project with a global team.
The finished hospital houses acute care, ambulatory systems, operating rooms, outpatient rooms, and doctor consultation areas. The new and more efficient facilities have enabled improvements in service such as shorter hospital stays, which reduce overall health care costs.