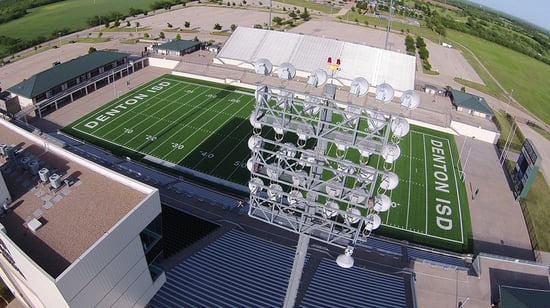 Located at the tip of the "Golden Triangle," which includes the cities of Dallas, Fort Worth and Denton, Denton ISD is one of the fastest-growing school districts in North Texas.
Because of this explosive growth, the district needed a new 12,000-seat stadium and associated facility, named the C.H. Collins Stadium. And as a leader in K-12 design, Salas O'Brien stepped in and provided mechanical, electrical, and plumbing consulting design for the new facility.
In addition to standard MEP design, Salas O'Brien's work also included:
Specialty lighting and video requirements needed to facilitate televised games and events at the stadium
Scoreboard with a 10' by 14' video board
Three-story press box, complete with tiered seating for press, coaches, radio, a film deck and two 20-person multi-use rooms
Two-story field house with two large locker rooms, district athletic offices, a centralized storage and a 150-person meeting room
Salas O'Brien's work proved critical to the success of this important school facility—one that will serve Denton ISD and the entire "Golden Triangle" area for years to come.