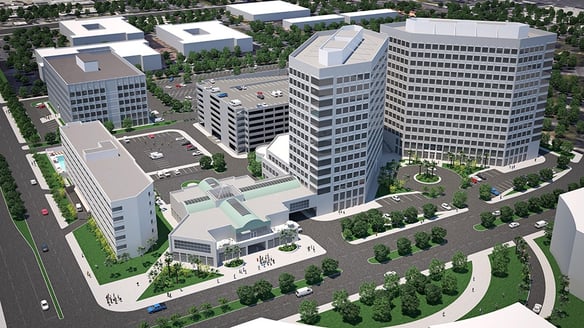 In a previous article we gave a quick overview of how Salas O'Brien uses virtual reality to serve its clients better. But how do you get a virtual reality model?
It all begins with a 3D model.
Working smarter with BIM
Although a first-person walk-through can be developed from models made in almost any 3D sketching tool, models created in parametric modeling software have practical uses that extend far beyond visualization.
Revit is not the only software option in this field, but it is by far the most common. Here are some examples of the kinds of benefits a tool like Revit can bring to a project:
Manage and store complex information. Revit is first and foremost a construction documentation tool. The software integrates visualization and design by creating responsive, 3D digital models that catalog complex building design information—anything and everything from mechanical/electrical schematics to lighting layout.
Simplify collaboration. After it is adopted and put into practice, Revit empowers designers to collaborate by integrating formerly siloed processes into a cohesive, evolving design program. Because Revit brings together information from so many different disciplines, designers are able to detect clashes much more quickly. Revit also applies changes in real time across platforms, making updates seamless.
Reduce RFIs. When an entire design team uses Revit, they can create better construction documentation, catch conflicts before the design hits the field, and reduce RFIs. As more design contributors adopt the software, its value increases.
Work from concept to construction. Creative uses for the software could include energy or lighting analysis, as well as phasing management. Final documents are "living" and can be used for future additions, equipment tracking, and other tasks.
Enhance perspective. Once created, models in Revit can be viewed and modified from nearly limitless points of view. In addition to this built-in flexibility, models can be ported to gaming software at any point in the design process and experienced through interactive walk-throughs or VR. This option allows designers and clients to explore their projects first-hand, view progress, and make design decisions with a better understanding of the space in 3D.
With more and more designers and firms seeing these benefits and using BIM on their projects, it is no wonder that many are taking the next step and using those BIM models to create VR visualizations.
Want to learn more about how Salas O'Brien uses VR?
One of our senior designers, Eric Johnson, just released a white paper that goes into more detail on VR and how it can help Salas O'Brien serve its clients better. Click below if you're interested in learning more.