Arc flashes are a well-known risk factor, especially in the large, mission-critical facilities that Salas O'Brien's clients often build and manage. These indoor explosions take a serious toll on human life and on the buildings our clients manage.
But there is a way to prevent arc flashes: power system studies.
What does a power system study include?
A power system study is always led by an electrical engineer registered in the jurisdiction in which the equipment is located. A study includes several steps:
Gathering equipment information

For a new installation: review of equipment information, verification of the equipment that is being installed, and (potentially) a site visit to survey equipment
For an existing installation, one or several site visits to survey the equipment

Analysis

Electrical model utilizing commercially available modeling software
Coordination study
Short-circuit study
Arc flash evaluation

Full report summarizing the results from the studies
Printing and installation of arc flash hazard labels
I thought all I needed was an arc flash evaluation?
Given the amount of publicity that arc flashes receive, a non-engineer might conclude that such a study alone is enough to mitigate the risk of an arc flash incident. But that simply is not the case. Breaker coordination and short-circuit studies are critical and must be performed prior to starting the arc-flash study.
To get a visual sense for why breaker coordination and short-circuit studies are so important, compare the two sides of the diagram below: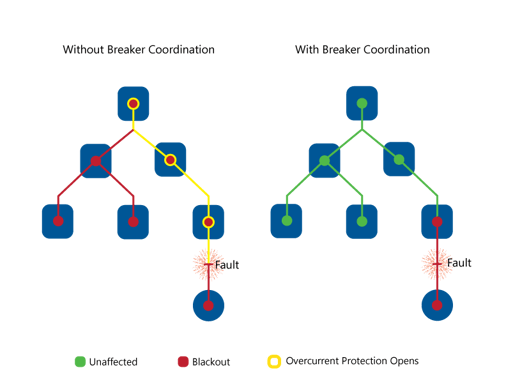 On the left is an electrical system that is not coordinated—the fault falls under the threshold of the downstream breakers until the main breaker opens, cutting off power to the entire system. Compare this to the system on the right that has coordinated breaker settings. As soon as the fault is detected, the breaker immediately upstream opens, isolating that part of the system from the remainder of the system.
Want to learn more?
Electrical systems need expert design and maintenance—and Salas O'Brien is here to help you. Learn more by downloading our complete white paper on arc flash risk assessment and complete power system studies.