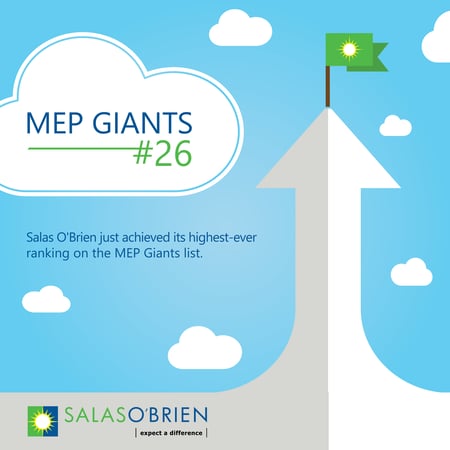 Salas O'Brien is thrilled to announce that the firm has jumped to #26 on Consulting-Specifying Engineer's 2017 MEP Giants list. The move from #29 in 2016 and #56 in 2015 was fueled by a year-over-year increase in MEP design revenue of almost $9 million.
"It's no surprise to anyone who works with our team to see these awards keep pouring in," said Darin Anderson, Salas O'Brien CEO. "We tell people to 'expect a difference' from Salas O'Brien, and it's clear from our growth that the difference is resonating across the industries that we serve."
"Now that we've become a 100% employee-owned firm, I expect this growth to continue at an even faster rate," Anderson continued. "Our entire team is now being rewarded for the devotion they have always shown to our clients—and as remarkable as our growth has been, I think the team will outdo itself in future years as they start to see the personal benefits of ownership."
The MEP Giants list includes firms performing mechanical, electrical, plumbing, and fire protection engineering. Salas O'Brien first appeared on the list in 2008. In addition to its MEP Giants ranking, Salas O'Brien recently reached #232 on ENR's list of the top 500 architecture and engineering firms and has been on the Inc. 5000 list of fastest-growing private companies since 2012.