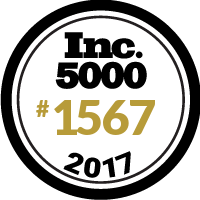 For the fifth straight year Salas O'Brien has been named to the Inc. 5000 list of America's fastest-growing private companies. Very few companies on the list ever sustain the growth required to be named for five consecutive years.
"People often ask me for the secret of our growth from a strong regional firm into a national powerhouse," said Darin Anderson, CEO. "The truth is that there is no secret. We have a passionate team of technical experts working on the most complex facilities in the world, yet we understand these facilities so well that we can make them simple to understand. As this reputation has grown, our nation's most notable companies keep coming to us because they simply wouldn't trust anyone else to provide the expertise and level of service we offer."
Companies are ranked on the Inc. 5000 list according to percentage revenue growth over a three-year period. Salas O'Brien was named #1567 on the 2017 list and has experienced revenue growth of more than 1200% over the last 10 years.
"None of the growth acknowledged by this milestone would have been possible without our committed team members who deliver exceptional work every day," continued Anderson. "We are all devoted to encouraging each other's personal improvement through training, leadership, and growth opportunities."
With its tagline of "expect a difference," Salas O'Brien's Ownership Values of "Expect Leadership, Expect Results, Expect Relationships" define how employee-owners interact with each other and hold each other accountable for achieving outstanding results.